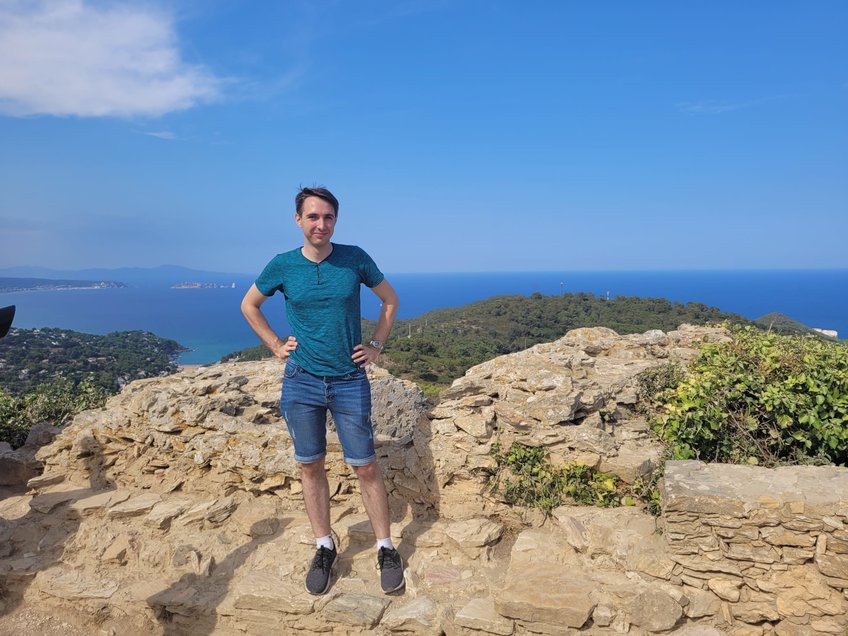 Meet our Alumni: an interview with Thomas Kohlert
Thomas Kohlert did his PhD in the group of Immanuel Bloch at LMU and has been working in a patent attorney's office in Munich since September 2021. In this conversation, Thomas tells us about the ups and downs during his time as doctoral researcher, how he became interested in his current job and what things are essential for him as part of a good work.
- What was the most memorable and good experience during your PhD?
It is hard to pick one special occasion as my most memorable experience. I was very lucky that I had a lab colleague in whom I also found a real friend, and with whom I had a very harmonious time for more than four years. This actually made the daily work a lot easier as a team and led to very good experimental results as well. Also, I really look back fondly on the celebration after my successful defense, so this was definitely a very memorable moment of the PhD!
- Did you take some free time or do something special right after finishing your PhD
Fortunately, I had two months between my defense and the first day in my new position. I made good use of this, recovered from the intense preparation for the defense and used the opportunity to travel a bit through Europe. For instance, I spent a week in Vienna and visited friends in Berlin.
- What were your initial career plans when you started your PhD?
I would say that the two main options in the beginning were a scientific career or a position in a research and development department of a company. Still, at this point I was very open and had not yet developed a definite preference on whether to stay in academia or rather opt for a position in industry. Actually, one of the reasons why I wanted to do a PhD, was to figure out if a career in science would suit me in the long run.
- How did these plans evolve? What did you do after finishing your PhD and why did you choose this path?
Despite having a good time during my PhD in an outstanding team, it soon became clear to me that I would not pursue a scientific career. Working in the lab, I occasionally experienced difficulties and frustration, and had the feeling of depending on issues out of my control rather than on my own capabilities. These problems and bad days definitely made a research position less appealing to me.
I found out about the job as a patent attorney on an Open Day organized by the German Physical Society and was quite excited from the beginning, although the job is very different from the work in a physics lab. Over the years, I became more and more interested and finally applied at the office that hosted that Open Day. Today, I do not regret this decision and really enjoy this job.
By the way, I cannot yet call myself a patent attorney because I first have to take at least three years of training and an examination to become European Patent Attorney. Afterwards, I still have the option to become (German) patent attorney, which requires an additional dedicated law degree.
- Could you share something particularly exciting and interesting about your current position/research?
First of all, I should say that the daily business of a patent attorney is perhaps as far away from the daily work at lab as it gets. Personally, I find particularly exciting that I am one of the first persons to get a glimpse of the most recent innovations and inventions, and that it is my job to make sure that these inventions become patented. For instance, recently I worked on a present application on a novel treatment method for glioblastoma using electromagnetic fields instead of common chemotherapeutical medicaments. Not only is this a very interesting topic, this invention may also have vast impact of future ways to treat brain cancer!
- From your experience, how are the career opportunities for PhD graduates in QST, both in and outside of academia?
I do believe that the field of quantum science technology is currently on a transitional phase from fundamental research towards focusing on potential commercial applications of quantum technologies with the ultimate goal of a quantum computer. In order to make worthwhile contributions to the understanding of fundamental processes, it requires more and more sophisticated experiments and evaluation methods. As can be seen from the new initiative "Munich Quantum Valley", politics and economy have a large interest in pushing the knowledge on quantum science into real-world applications. Therefore, my personal opinion is that a big part of the future of QST lies indeed in the development of (commercial) applications of said technologies (e.g. quantum sensing and quantum cryptology).
- What are the three most important things to you in your job?
1. The tasks should be diverse and should provide new challenges.
Although the job of a patent attorney may sound boring at first, every single case is different and requires individual solutions. It is true, you develop routines, for instance in responding to communications from the patent office, but these have to be tailored to the specific case. And there are of course always new problems that you have never encountered before.
2. It is important to receive feedback and appreciation for my efforts and my good work.
This works very well in my team now, both with my supervisor and the clients.
3. The "boundary conditions", the team/colleagues, work-life balance etc. should fit
I work in a team of young physicists, future patent attorneys like me, and therefore it was not hard at all to find friends. This is actually a huge aspect of why I like my job.
- What advice would you give to somebody just starting their PhD?
First of all, you should be aware that you are about to commit to this project for around four years. Therefore, it is important to find a research field that you are really interested in and that you can develop a certain amount of passion. Otherwise, phases of frustration, which will inevitably occur, may be hard to overcome. Also, the PhD can definitely be a very valuable experience where you meet great people, see stunning destinations when attending conferences (also the ones organized by IMPRS, of course) and acquire valuable skills for your future career. So if you are really keen on a specific field of research and want to find out if a scientific career is an option in the future, it is definitely worth going for it.
- What do you like to do most when you are not working?
I would like to emphasize that, unlike during the PhD, I now have well-regulated working hours and no more than 40 hours per week. In my free time, I try not to think about work at all and instead spend time with friends and family or on my hobbies such as cycling or chess. Sometimes doing nothing is also great!